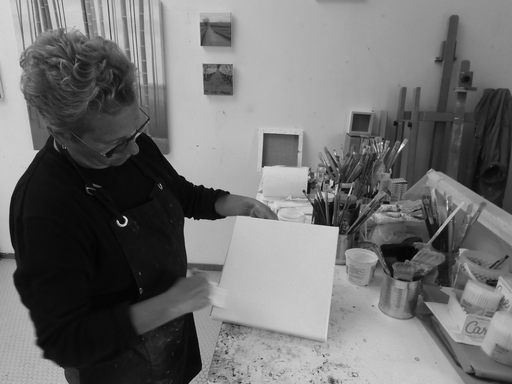 Recurring themes of Bria's work are related to people, landscapes and nature.
Finely tuned details are blended with abstract elements.
Her paintings portray a sense of subdued poetry and often have mysterious qualities.
Her extensive travels are a rich source of inspiration. In her recent work she has been inspired by Asian arts and culture.
Her work is included in private and corporate art collections worldwide.




Bria Kromm (1957) is an Amsterdam-based contemporary painter. She studied at the Academy of Visual Arts and followed the Teacher Training / Art Education at the 'Hogeschool of Amsterdam'.

Mensen, landschappen en de natuur zijn terugkerende thema's in Bria's werk. Fijn afgestemde details worden gemengd met abstracte elementen. De schilderijen geven een gevoel van ingetogen poëzie weer en hebben vaak mysterieuze kwaliteiten.
De reizen vormen een belangrijk inspiratiebron. In haar recente werk liet ze zich inspireren door Aziatische kunst en cultuur. Haar werk is opgenomen in privé-en bedrijfscollecties wereldwijd.

Bria Kromm (1957) hedendaagse schilderes, woont en werkt in Amsterdam. Ze heeft aan de kunstacademie gestudeerd en volgde de lerarenopleiding / kunsteducatie aan de Hogeschool van Amsterdam.