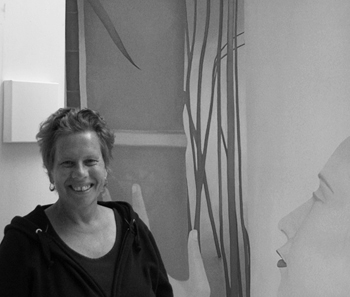 Bria's work is about people and their environment. She paints faces and landscapes in which both figurative and abstract elements are combined. The search for simplicity is typical.
Often the paintings have a subdued, poetic, sometimes mysterious appearance. Bria has traveled extensively and much of her work reflects influences from abroad. Her latest work has been inspired by Asian art and culture.
Bria Kromm (1957) is a figurative painter based in Amsterdam. In the 80's she moved from Southern France, le Midi to The Netherlands. She studied at the Academy of Visual Arts in Bremen, Germany and followed the teacher training at the 'Hogeschool of Amsterdam'.

Mensen en hun omgeving staan in Bria's werk centraal. Ze schildert gezichten en landschappen waarbij zowel figuratieve als abstracte elementen worden gecombineerd. Het zoeken naar eenvoud is kenmerkend.
Vaak hebben de schilderijen een ingetogen, poëtische, soms mysterieuze uitstraling. De reizen vormen een belangrijk inspiratiebron. In haar recente werk liet ze zich inspireren door Aziatische kunst en cultuur.

Bria Kromm (1957) schilderes, woont en werkt in Amsterdam. In de tachtiger jaren verhuisde ze van Zuid-Frankrijk, le Midi naar Nederland. Ze heeft aan de kunstacademie te Bremen gestudeerd en volgde de lerarenopleiding aan de Hogeschool van Amsterdam.